Before we start with the topic, let's understand what group discussion is? Group discussion or GD is a type of discussion that involves various people sharing their own ideas or opinions. Here every one are of same mindset but with different opinions, which enhances the knowledge of people participating. Here participants are judged by a recruitment panel. As a student GD helps you to train yourself to discuss and argue about the topic given, it helps you to express your views on serious subjects and in formal situations. It improves your thinking, listening and speaking skills in a very short period of time.
Introduction
It improves your thinking, listening and speaking skills. And also promotes your confidence level. It is an effective tool in problem solving, decision making and personality assessment. GD skills may ensure academic success, popularity and good admission or job offer.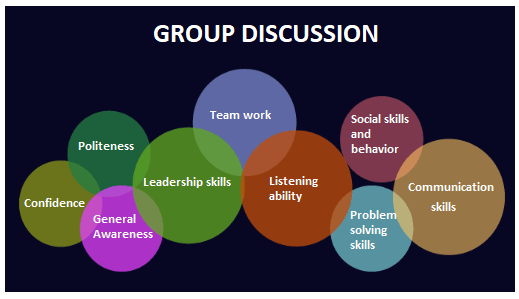 Some important personality traits the candidate must possess to excel in the GD round:
Team Player – A team player is someone who actively contributes to their group in order to complete tasks, meet goals or manage projects. A team player understands that their team's success is their own success, and they share responsibility when their team experiences difficulties along the way.
Reasoning Ability – One must understand the question and think of the various paradigms that can be affected and if there is a solution to it, then how it can be brought about.
Leadership – It is all about how you lead the group and bring out the maximum potential of the other members. And how to play it cool and keep calm yet resolve the given task. You should be able to give direction, co-ordinate, contribute and inspire.
Flexibility – you must be open to what others are talking about on a topic. But on the other side you cannot keep dribbling with the stand you have taken.
Assertiveness – You have to be sure and confident about what you say. When you are assertive, it reflects in your body language.
Initiative – This is given a lot of importance, as you have to know when to speak and when to initiate a new topic.
Creativity/ Out of the box thinking – Creativity/ Out of the box thinking – It increases your creativity level When sudden question is asked and you frame answers according to the questions.
Inspiring ability – While discussing within the team the body language and presenting capabilities are checked and this inspires the person watching you or your team mates.
Points to Remember
Sound knowledge on various topics helps to get through a successful group discussion. Candidates with good reading habits have more chances of success.
Avoid using slang language/ words.
Be positive and don't be overconfident.
Group discussion is not a debating stage; express your points without any argument.
Your language must be simple, direct and to the point.
Address the entire group in such a way to make everyone feel that you are speaking to him/her.
If you have any doubt on the subject/topic then clarify before the discussion begins.
Develop Leadership Qualities
Body Language
Listening Ability
Find Balance
Maintain Eye Contact
Conclusion
"Personality is the characteristic patterns of thoughts, feelings and behaviors that make a person unique." This depends on how a person carries himself/ herself with the attributes of good qualities inherent in their persona. The motive behind a group discussion is to judge individual's leadership qualities. Your views and thoughts must be motivating and influential enough to convince other candidates, who are equally competent. And while preparing for GD round you go through your every weak points to excel the GD round and this is how you take step towards the development of your personality.