A garden is a grand teacher. It teaches patience and careful watchfulness; it teaches industry and thrift; above all it teaches entire trust.

Gertrude Jekyll
Hi Friends!
We have been talking about agriculture, career options in agriculture, hydroponics, hydroponic systems, etc. In this article, we will discuss a branch or a subset of agriculture that involves growing garden crops known as Horticulture.
Let's first understand its meaning:
Horticulture is the branch of agriculture that deals with the cultivation of garden plants such as vegetables, food, flowers, fruits, nuts, herbs, spices, medicinal, aromatic, and ornamental plants. Horticulturalists: The people who practice horticulture.
Do you know the meaning of horticulture in Hindi?
-बागवानी
Which when translated to English also means "gardening".
There is only a slight difference between the terms gardening and horticulture. Gardening refers to cultivating garden plants normally as a hobby, whereas horticulture refers to cultivating garden plants, ornamental and medicinal plants as a profession to earn a living.
The word Horticulture is derived from two Latin words Hortus and Cultura.
Hortus meaning 'garden'
Cultura meaning 'cultivation'
Horticulture is a part of agriculture.
Horticulture only deals with the cultivation of plants while agriculture involves both cultivation of plants as well as animal husbandry.
How did Horticulture start?
Horticulture has been practiced since the Middle Ages in Europe. In our country, the Mughal Emperors practiced this art of garden cultivation.
In 1820, William Carey founded the Agricultural and Horticultural Society in India with the objective to develop the agriculture sector. Also, he was its president from 1824-1826. Carey was an English Christian missionary, Baptist minister, social reformer, translator, and also a cultural anthropologist. The Agricultural and Horticultural Society led to the production of a large variety of fruits and vegetables and therefore they were easily available in the markets.
In India, the government felt the need to diversify the horticulture sector in the mid-eighties. So, the Government of India planned to increase the investment in this sector for its development. The Department of Agriculture, Co-operation & Farmers Welfare (DAC&FW) of the Ministry of Agriculture & Farmers Welfare is responsible for managing the development of the horticulture sector.
Let's now discuss how the this sector has developed over time in India:
Horticultural trends in India
M.H. Marigowda is considered the Father of Indian Horticulture.
Dr. Marigowda, a horticultural expert, born in a Vokkaliga family, had dedicated his life to the development of Horticulture in Karnataka to help in uplifting the lives of farmers as well as provide healthy food for the society.
India is the second-largest producer of horticultural crops in the world, after China.
India is expected to have the highest horticultural output of 329.86 million tonnes in 2020-21, according to the second advance estimate of horticulture production released by the Ministry of Agriculture.
People have become more health-conscious due to the pandemic. This has resulted in an increase in the demand for medicinal plants, fruits, and also spices for healthy food in both India as well as abroad.
Graph showing the output of horticulture sector in India from 2014-15 to 2020-21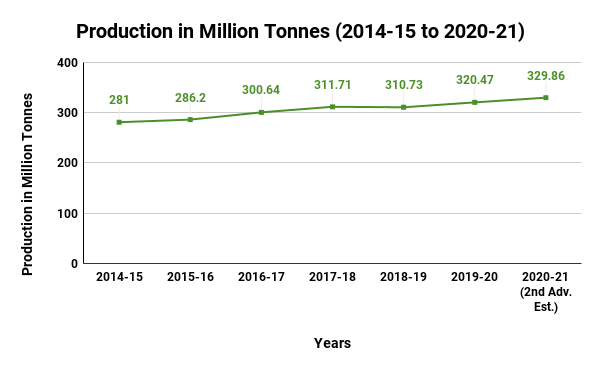 Source: https://agricoop.nic.in/
The horticultural production has increased from 281.0 million tonnes in 2014-15 to 320.47 million tonnes in 2019-20. In 2020-21, the production of horticultural crops in India is expected to increase by 9.39 million tonnes.
Branches of Horticulture
Horticulture can be divided into the following branches:
Olericulture: It refers to the cultivation of vegetables (non-wood plants).
Pomology: It refers to the study of the cultivation of fruit crops and nuts.
 Floriculture: It refers to the cultivation of flower crops, garden plants, potted flowering plants, etc.
Plantation crops: It refers to the cultivation of cash crops such as coffee, tea, cocoa, sugarcane, cotton, rubber trees, forest trees, and coconut.
Spice Farming: It refers to the cultivation of spices such as pepper, turmeric, ginger, cinnamon, Mints, coriander, methi, etc. 
Medicinal and aromatic crops: It refers to the cultivation of medicinal plants such as amla, bhumiamlaki, ashwagandha, glory lilly and aromatic plants such as kananga, lemon grass, citronella, dhavana, geranium, mints.
Viticulture: It refers to the production and marketing of grapes.
Ornamental plants: It refers to the cultivation of plants such as alamanda, wild rose, shrubs, trees, hibiscus for decorative purposes. 
Post-harvest: It deals with the handling of crops after harvest. It involves grading, packaging, labeling, storage, processing, marketing, etc. of horticultural crops.
Closing thoughts
Horticulture is emerging as an important branch of agriculture and also as a great source of livelihood for many farmers. In our further articles, we will discuss the importance of horticultural crops as well as the career options in the this field.